---
Dave & Dora Beth Christy

---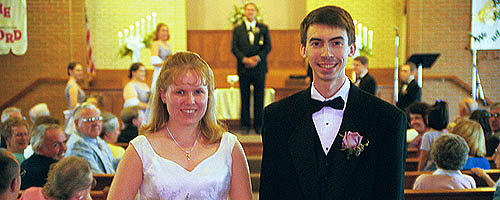 Thank you all for your support of our wedding! We were originally expecting to invite around 75 people, and eventually decided we could not invite less than 200. It was great to celebrate our union with so many of our close friends, and also with those friends whom we have not seen in a long time. Thank you for your support also if you were unable to attend the ceremony but were able to convey support otherwise. And of course, most importantly, we appreciate your continued prayers always. :)
It truely was a beautiful wedding and we are very happy with how our special day turned out. The best seat in the house was reserved for the Lord and it was clear that He was with us while we tied the knot.
To go with such a beautiful wedding, we have a lot of photos to capture the event. On the professional page, there are 24 pictures, totalling 924Kb. On the other pages, there are 10 more pictures at 303Kb.
Click here for picture hightlights!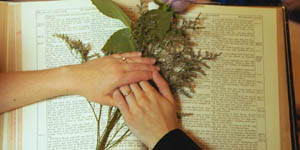 "And now these three remain: faith, hope and love. But the greatest of these is love."
1 Corinthians 13: 13


Also, thank you for your patience during the months surrounding the wedding as our lives have been about as busy as life gets. As mentioned earlier on this site, within seven weeks we graduated from college, moved all of our stuff and lived in seperate places, Dave got a permenant job offer, after the wedding we moved in together, and then just a couple days later we moved again to another town and started that job. During most of this time we have had to rely on friends for our internet access and only a single cell phone for our only phone. So it has been an interesting couple months, to put it lightly :) But the Lord has blessed us in innumerable ways so we are just having fun along the roller coaster of life...