---
Dora Beth & Dave will be Married!

---

Saturday June 17th 2000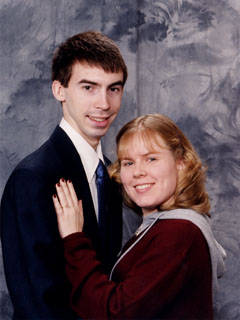 ---
"The choirs sang under the direction of Jezrahiah. And on that day they offered great sacrifices, rejoiceing because God had given them great joy. The women and children also rejoiced. The sound of rejoicing in Jerusalem could be heard far away." Nehemiah 12: 42, 43 NIV
We imagine such rejoicing will be happening in days in Burlington, Iowa. David LeBeau Christy and Dora Elizabeth [] wish to announce that they are getting married the third Saturday of June, two-thousand years after the traditional birth of our Lord Jesus Christ. They met by the grace of God after many years of dedication to Him, and after developing their own self character. Now that they have been brought together they wish to spend the rest of their lives in each others company and love.

---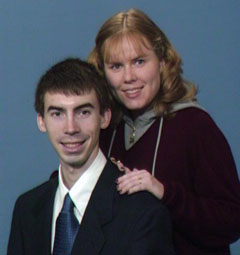 Engagement Date:
Tuesday February 22nd 2000

College Graduations:
Saturday May 13th 2000
University of Iowa

---
Wedding Details:

Date:

Saturday June 17th 2000

Time:

1:30pm

Location:

First Baptist Church
300 Potter Drive
Burlington, Iowa 52601


(Maps)

Reception:

Dessert Afterwards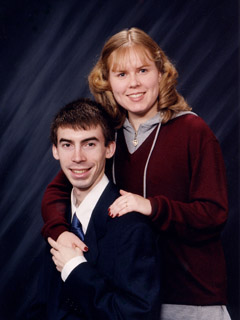 If you are unable to attend the wedding but would like to send a gift,
please address it to Dora Beth [] and use the church address.
It will get to us :)

This is NOT an invitation. This is a world wide public announcement. Invitations were mailed.
See the old engagement page, or

View more of Dave's web domain...
http://www.jayden12.com/wedding/details.htm